Air con rage is the latest office headache. Air conditioning units are not just causing a chill in the temperature but they are also creating a frosty atmosphere between employees resulting in air con rage, which is becoming an increasing issue for employers.
Studies by uSwitchforbusiness.com, an independent business energy broker, found that 74% of employees have argued with colleagues over the temperature in their offices and, surprisingly, people in the North West suffer from air con rage the most which I think could be because air con (in my opinion) is redundant in a region which struggles to reach 18 degrees in the "summer"…
Air Con wars have introduced a new genre of office divide for employers; the hot versus the cold employees, but it also runs a little deeper than that. It is most often felt that women are the main culprit when it comes to complaining about the office temperature but I have come across at least 4 subgroups within the workplace that makes this situation even more complicated for the office manager:
1. The Mysophobic Employee, afraid that the air conditioning unit will spread germs throughout the workplace.
2. The Eco-Warriors, concerned for the ever expanding hole in the Ozone layer that the air conditioning unit is contributing towards.
3. The Nesh Employee, who whatever the weather they can never get warm.
4. Those employees who experience personal heatwaves, making it difficult for them to manage one moment to the next.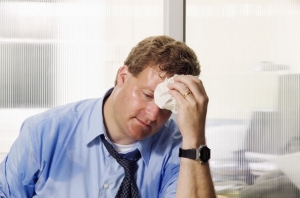 Personally, I am part of the nesh subgroup in the divide however just because my core runs at a lower temperature than that of my colleagues does it mean that they have to sit at their desks, sweltering because I do not want the air con on? Alternatively, am I expected to sit at my desk wrapped in my emergency cardigan, with my floor heater on in the middle of August because I was out voted in the air con debate? It's a tricky situation HR/Office Managers find themselves faced with now.
Not only do air con wars affect the office environment it can also disrupt productivity. A study conducted by Cornell University in 2004 linked warm offices to fewer typing errors, in fact their researchers found that errors decreased by 44% when employees were working in an environment with a 'comfortable temperature'. However the uSwitchforbusiness.com survey found that 61% of those surveyed said that being too hot in work was worse than being too cold.
So how do we decide what a 'comfortable temperature' is?
While Workplace Regulations do not provide for a minimum or maximum temperature, HSE Guidelines recommend a minimum temperature (for most workplaces) of 16oC. So, with no firm rules to rely upon, how can an employer make sure they land on the right side of the air con war?
Compromise
The best, and most simple solution, is to agree to a temperature and stick to it. This can be done by taking a poll in the office of preferred temperature and collating the responses. The most popular temperature will then be set as the office's 'comfortable temperature'.  This will hopefully appease staff that you have listened to their opinions and set the temperature based on their responses.
Employers can then evaluate the situation; if they find that there are still employees who have an issue with the office temperature they can make adjustments for them individually.
Another factor to bear in mind in a professional office environment is dress code. During the summer male staff will still be expected to wear a suit in the office but women are able to wear summer dresses/skirts, meaning they will be cooler.
However, what happens if the temperature of the air con gets too cold for some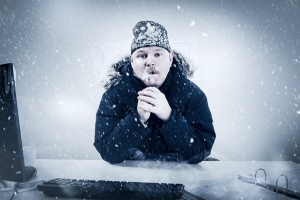 employees? To ensure both sides of the divide are mollified during the summer months encourage the cold employees to bring in spare clothing. I have my own emergency cardigan which comes in handy on those typical northern days where the sun only lasts for an hour! Plus, I think we can all agree that it is easier to add an extra layer of clothing than it is to remove one, and let's be honest the removal of clothing in the office opens up a whole new can of worms.
If the atmosphere gets too chilly or the arguments too heated, give Tom Evans from our Employment and HR department a call on 0151 2301217. He will be happy to help from his air-conditioned office in Liverpool.