We recently hosted a Charity Governance Webinar with Mitchell Charlesworth.  The webinar included talks from Alison Brennan, Head of Compliance and Service at DTM Legal and Louise Casey, Mitchell Charlesworth.
The topics included:
How do board responsibilities transfer to the finances and financial statements
What does good financial governance look like?
I/E or Audit and what does this mean?
Reporting responsibilities
Trustee report content
Forms of charity/constitutions
Responsibilities – Charity Commission and Companies Act
Personal liabilities of trustees and the protection available
Managing conflicts of interest
Good governance – leadership, purpose, decision making/risk/control.
Click below to review the slides
https://bit.ly/CharityGovernanceSlides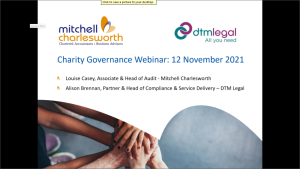 Please find below the recording of the webinar for your interest.
https://register.gotowebinar.com/recording/2420549978780422416
https://attendee.gotowebinar.com/recording/2420549978780422416
If you have any questions would like further details please contact Alison Brennan on 01244 354815 or email her at alison.brennan@dtmlegal.com