DTM Legal have just been announced as the latest sponsor for the Slush'D Liverpool event taking place on the 14th of September.
What is a Slush'D Event?
Founded in 2008, Slush had its first event in Helsinki and is now branching out to be a global brand. Slush is a non-profit that aims to remove the bottlenecks that hinder new startups. They are community focused and their events bring together the who's who in the local area to deliver actionable company-building advice. Helsinki is recognised as one of the most thriving startup ecosystems in Europe and Slush has done more than it's fair share to make this the case.
Slush launched the Slush'D events as a way to replicate the Helsinki trajectory around the globe. They challenge their local event organisers to answer the question 'Right now, which bottleneck is most critically holding our local ecosystem back?' and at DTM Legal we are excited to join Slush'D Liverpool and hear the answer to that question.
What to expect at Slush'D Liverpool
This year's event in Liverpool is the first of it's kind and it sold out almost immediately! Starting at 10:30am the attendees have a full day of panels, keynote speeches and insight sessions to look forward to before evening entertainment kicks off at 6:30pm. Speakers include members of KPMG, UK Business Angel Association, Baltic Ventures, Founder Catalyst, Beauhurst, Growth Platform, Flight Story and more!
Local Tech entrepreneur and director of Liverpool Slush'D said "It's a must-attend event for anyone looking to stay ahead of the curve in the tech industry. You'll have access to game-changing insights, high-value networking opportunities, and exclusive pitches from some of the hottest startups on the scene."
Staying true to Slush Helsinki's model the attendees can expect to leave the event having joined a community of like-minded founders and professionals set to help grow the regions start up ecosystem.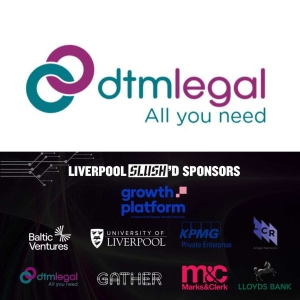 Why did DTM Legal sponsor Slush'D?
DTM Legal has for several years been a supporter of Innovation and Tech growth within the region advocating for the advancement of Fintech and Digital services in Liverpool and the surrounding region. The DTM Legal team also provide a range of services that benefit startups and with a strong commercial background can provide expert guidance to help clear bottlenecks that entrepreneurs will face. Our Corporate and Commercial teams can draw on a broad experience base and strong business acumen to provide clear and effective advice.
If you are a fledgling business seeking legal advice visit our Legal Services page for more information or speak with Kate Roberts, Partner and Head of Liverpool or Richard Harris, Partner by calling 0151 3210000.