Sarah Wilcock, Gena Pickering and Konrad Bialozynski headed along to the University of Law at University of Liverpool's Spring Legal Employer Fair.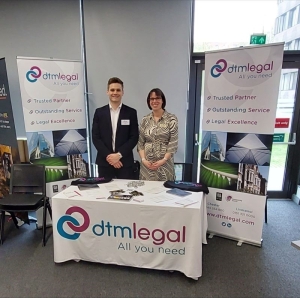 'It is fantastic to be part of such a great profession and to meet so many new faces keen to be join it. There were many budding lawyers at the Fair and shows the wealth of legal talent in the city that is coming through, ' commented Konrad.
Sarah Wilcock, Practice Manager said, 'We have a rigorous application process. It is good to see the calibre of students embarking on their new career. They are the future and it is good to get to know them at this early stage and brief them about what is in store.'
For further details on the application process please refer to our Careers Page and download the application form or contact sarah.wilcock@dtmlegal.com
The deadline each year is 31st January for intake in the following September.